Du 17 au 24 septembre deux artistes Honfleurais Bastien LOUKIA et Georges DAVID participeront à la semaine de l'art à Sandwich. Nos deux concitoyens pourront exposer leurs oeuvres et découvrir notre ville jumelle. Merci au Comité de Sandwich, à Rob WALLIS, à Steve LASLETT et à Jim MARSHALL pour leur aide.
Abstraction is a journey whose final destination is unknown; the route uncertain, marked out by encounters, scattered with doubts but also with rejoicing. It is the opposite of figurative – real tangible- and becomes, paradoxically- real tangible – for whoever chooses to take time to make the journey with me.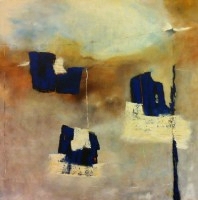 Bastien Loukia
I have been drawing since my childhood, painting and creating comic strips since my boyhood. At present I am working on a comic book based on Eric Satie's life recording the 1st of July 2016 and on a science fiction short story collection. i like reflecting on fate, chance, life and mythology. They are allegories whose interpretation depends on the eye of the beholder. I have exhibited in France, Prague and London.